Juliet is honored to be collaborating with international artists on new chill-out/lounge and house music. She is currently working on new tracks with Aaron the Baron of Davino Records (Germany), Black 8 (Egypt) and LadyMarySound (Italy). Hear the new song, "Lost" on Yorgo's new album, "Before Sunrise" (Canada) and another song "We'll Fly", now available, by Italian producer Gold Lounge on the Sine label!

Plans have begun for Juliet's tour to South America, including Buenos Aires, Argentina, Santiago, Chile and Rio De Janeiro, Brazil, playing her music with artists there, including the legendary pianist, Osmar Milito. Here's a litle video of her singing one of her songs with Osmar and the wonderful bassist, Alex Rocha. She plans to collaborate with the famous
multi-Instrumentalist

/producer Andre Sachs Summer 2013. Stay tuned for more info on new music!

Please see our Tour page for more details, and join our mailing list, for more info on upcoming performances and new songs!


Juliet wishes to thank her talented musicians and her enthusiastic fans in Spain, New York, Brazil and all over the world for another great tour and musical adventure!
"Besos y abrazos de Los Angeles, Queridos!" ~ Juliet

"Juliet Annerino is the Complete Package: singer, performer, composer, recording artist and producer. Her vocalizing and songwriting touch on multiple music genres without necessarily landing on any one, and she makes it all work."

~ Chuck Bolger "JAZZ...Or Something Like It" 91.7 FM WMUH Allentown, PA


"Danger...passionate, romantic and mysterious"
~ L.A. Jazz Scene


"Sexy, intelligent"
~ Muse Magazine


Precious Presents for Precious Ones* - Members Only Download

Juliet is now offering an occasional gift of a song mp3 to her dear members. If you are already one of the Exotica Elite, then just click to download! For new Cabaristas, go to the "not a member?" up and to the right on this page, and sign up! Enjoy ~

Track Title
Price
Damn [4:06] lyrics


Free for members

Download MP3
I Hurt Myself [3:54] lyrics


Free for members

Download MP3
Drowning [3:48] lyrics


Featuring trumpet by Craig Seganti.

Free for members

Download MP3
Never Loved 'til You [3:03] lyrics


Free for members

Download MP3
Let's Run Away Together [2:13] lyrics


Free for members

Download MP3
The Only Time [5:46] lyrics


Written by one of the few living composers who I consider to be a true genius, Trent Reznor of Nine Inch Nails.

Free for members

Download MP3
One Brave Soul [4:31] lyrics


The vocal track was the first take. the alto flute player said he thought it was a keeper, so we just went with it. I'd wanted to write something in odd meter, so I put the bridge in 5, while the A sections are in 3. Hope you enjoy it!

Free for members

Download MP3
Jesus Loves You (but not like I do) [4:33] lyrics


Originally from the multi-media cabaret show in Hollywood, "The Lord's Lover", the controversial cut that rocked the house...Please let us know what you think on our comments page!

Free for members

Download MP3
To Be In Love [4:21] lyrics


Free with email

Download MP3
Amnesia [4:31]

Free for members

Download MP3
Heaven [0:59] lyrics


Free for members

Download MP3
Dance Betweeen the Raindrops [3:15] lyrics


Featuring Craig Seganti on trumpet.

Free with email

Download MP3
Cigarette [3:21] lyrics


From the latest album, "Scenes from a Life on Fire"

Free for members

Download MP3
You Alone [3:01] lyrics


Free for members

Download MP3
FunkTeazer ~ Jesus Loves You [4:54]

instrumental break-down version of the song, "Jesus Loves you (But not like I do)" Please see and download the full version above for all the juicy lyrics ;)

Free for members

Download MP3
Lullaby for Ma [2:56]

Written for my mother and for all of the mothers who worry...I love you, Ma!

Free with email

Download MP3
You need Flash player 8+ and JavaScript enabled to view this video.
After hours of planning, shooting & editing, Juliet's music video
"Just For Fun" is finished!
Please share it with your friends, rate and leave comments on the youtube page!

Special thanks to everyone who helped make this possible! We hope you enjoy it ~
play
pause
stop
min volume
max volume
previous
next
Chuck Bolger's 250th Show (WMUH, Allentown, PA)
Interview on "Radio One" in Lebanon
Radio Indigo Ineterview ~ Goa, India
(To hear a great radio show with Chuck Bolger, "Jazz...Or Someting Like It" tune in
here
on Thursdays, 6-8pm)
Now download FREE these great mp3's by Egypt's premiere blogger/social commentariest/author, "
Marwa Rakha
", which features many songs by wonderful Egyptian musicians, from the exotically traditional to sweetly folksy to hard rockin' and some never-before released songs from Juliet, too! Just click on the image above, scroll down and click on each chapter to listen & download ~
Become a member here now to get an exclusive download of the featured song, "Damn"!
"International Bliss Conspiracy" - Members Only Download

Free download for Members Only, from our artist, Juliet Annerino! Her trip-hop song "Head", from a Future album of Collaborations with musicians from around the world, called, "International Bliss Conspiracy". This track written by Juliet, produced and arranged by Jesse S. (London, England) ~ enjoy! And as a special bonus to our members here, a new, free download will be posted here from time to time, as well. Please check back frequently and join our exclusive group of "Followers of the Flame"

Track Title
Price
"Head" [4:36] lyrics


Free for members

Download MP3
"...fresh and VERY original"
~ A&R, Sweet Rosie Music Publishing

This just in! New review/interview on FlipSide to Music. Click below ~



New MusicGoat.com Interview with Juliet here ~

"a repertoire colored with intriguing inspirations"
~ Sheena Fox (Music Goat)

From Lebanon, this article is in the French Magazine "Noun".



And here is this wonderful interview published in a French Magazine, called, "L'Ebdo Magazine"...



If you missed Juliet's interview with the velvet-voiced dj, "Rosalynn Ghubril" on Radio One (105.1 FM), in Lebanon, you can hear it here ( just 7 minutes long!) in the site player.

June 5th, Juliet had the honor of being the subject of this fantastic article by Nicole Kamato on the front page of the entertainment section of "Annahar" newspaper.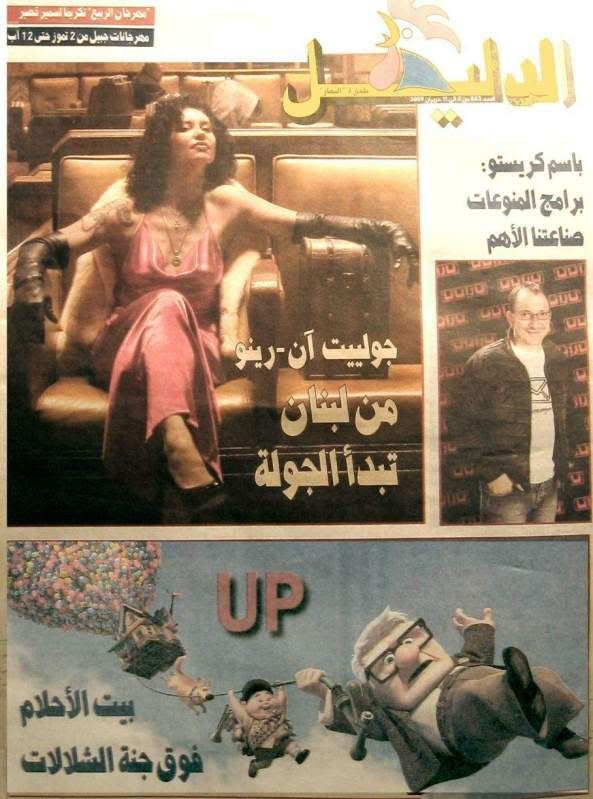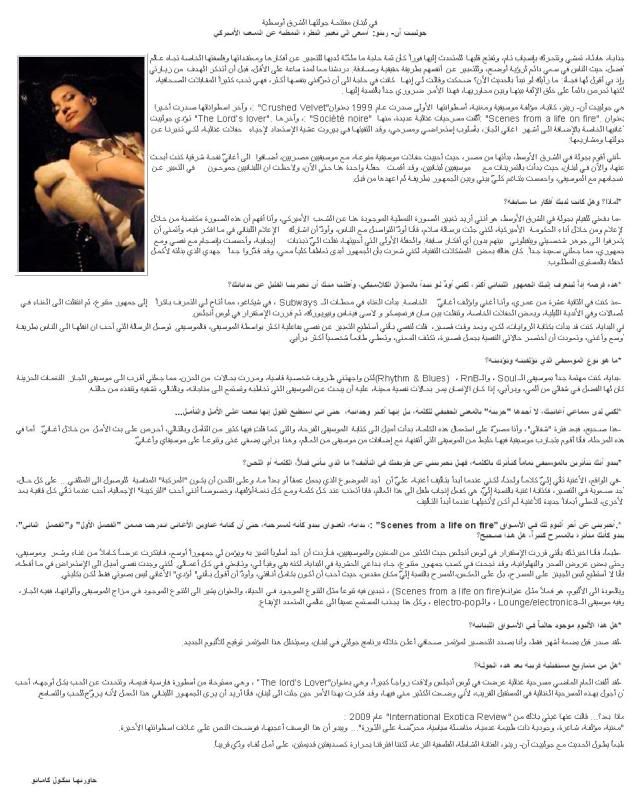 And this wonderful article:
And these newspaper articles...
Also in Beirut, a TV interview live on "O TV" with the lovely talk
show hostess, "Pascale". Please click on the picture below to see the video footage.

Juliet is currently meeting with DJ's to discuss her next album of remixes of cuts from "Scenes from a Life on Fire" to be called "Inernational Bliss Conspiracy"! If you're interested, please send an e-mail here and let us know where we can hear your work and how we can reach you. Thank you ~

An extensive interview in Cairo with Moustafa Kayed is posted on Elaph.com, widely known as the Reuters of the Middle East, with an average of 500,000 hits per day. It's a fun interview that delves into the new record, the tour, music trends, Sufism, the resurgence of Cabaret, and the mysterious allure of the Middle East. Enjoy the discussion here and please feel free to leave a comment on the page in English or Arabic ~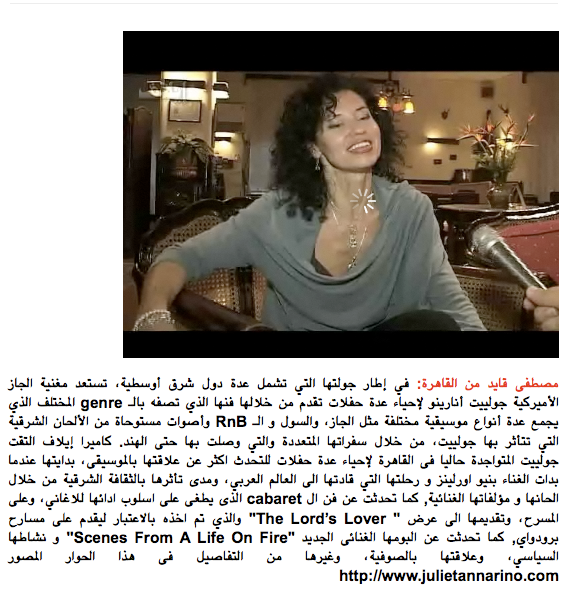 The new record, "Scenes from a life on fire" is now available for purchase as downloads or as a physical CD here on our Music page.. Album photos by Ian Choplick and Eric Erickson.

Tonya King, the amazing fire-dancer taught Juliet the art of "fire-eating". You can see one of those shots here: http://www.facebook.com/photo.php?pid=1246695&l=ebb50&id=709975673

The record includes 15 tracks, including the work of great musicians. Jimmy Williams on guitar, Lobace on bass, Jeff Sorenson on drums, and many more... (see the "Music" page for more info.)

Please check back with our Tour page for details as they come in. Sign up on our mailing list here for updates. Thanks for visiting with us at Mata Hari Music, and feel free to pass this on to your friends!
You need Flash player 8+ and JavaScript enabled to view this video.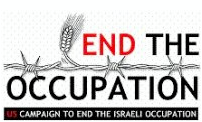 For Booking, Song Licensing and other inquiries, please contact
Ms. Dominic Francon of Matahari Music in Los Angeles,
at
Marketing@MatahariMusic.net